SEG Fabric Pop-Ups
The fabric-based, exhibition display solution that is easy to put up and transport
SEG Fabric Pop-Ups are the latest generation in lightweight large-format graphic displays. With striking graphics and easy-to-setup, they offer maximum impact with minimal fuss.
Each unit comes complete with a set of bespoke-printed and professionally-sewn graphics on 210gsm Display Polyester. Straight frame available in various sizes.
Aluminium frame
Three-piece graphic included for single-sided units; four piece graphic included for double-sided units
Carry bag
Stabilising feet for uneven floors included
Setup time: 15 mins
People required: 1
Can be joined together to create extended, right-angled and any formation of units (please ask for full details)
LED lights available as an optional extra (in packs of two)
What You Get
Pop-up frame for your selected size
1 large face graphic (2 for double-sided) printed on 210gsm Display Polyester, finished with a stitched silicone / kedar edge to all four sides
2 end panel graphics printed on 210gsm Display Polyester, finished with a stitched silicone / kedar edge to the long edges and a stitched hem to the shortest edges
Carry bag for pop-up frame
Stabilising feet are provided but may not be needed
Specification
| Name | 1×3 Straight | 2×3 Straight | 3×3 Straight | 4×3 Straight |
| --- | --- | --- | --- | --- |
| Overall Width | 770mm | 1505mm | 2240mm | 2970mm |
| Overall Height | 2235mm | 2235mm | 2235mm | 2235mm |
| Overall Depth | 340mm | 340mm | 340mm | 340mm |
Notice
Please note, due to the nature of fabrics that are not completely opaque, when these graphics are subject to strong lighting (especially from above or behind), some visibility of the frame through the graphic is possible. To avoid this, we recommend limiting the amount of light above or behind the unit, as well as adjusting the positioning of the unit.
While we make every effort to finish these graphics as accurately and consistently as possible, due to the nature of printing, cutting and finishing fabrics, some material movement and minor imperfections in alignment can be introduced. For this reason, we highly recommend not wrapping continuous or detailed shapes between sides.
Exhibition & Indoor Displays Hertfordshire
We offer a wide range of premium exhibition and indoor displays in Hertfordshire and beyond. Our exhibition and indoor displays can be customised and come in a range of sizes. We manufacture and supply exhibition and indoor displays ­­in Hitchin, Baldock, Letchworth, Stevenage and other areas in Hertfordshire as well as Nottingham. We also offer a national service.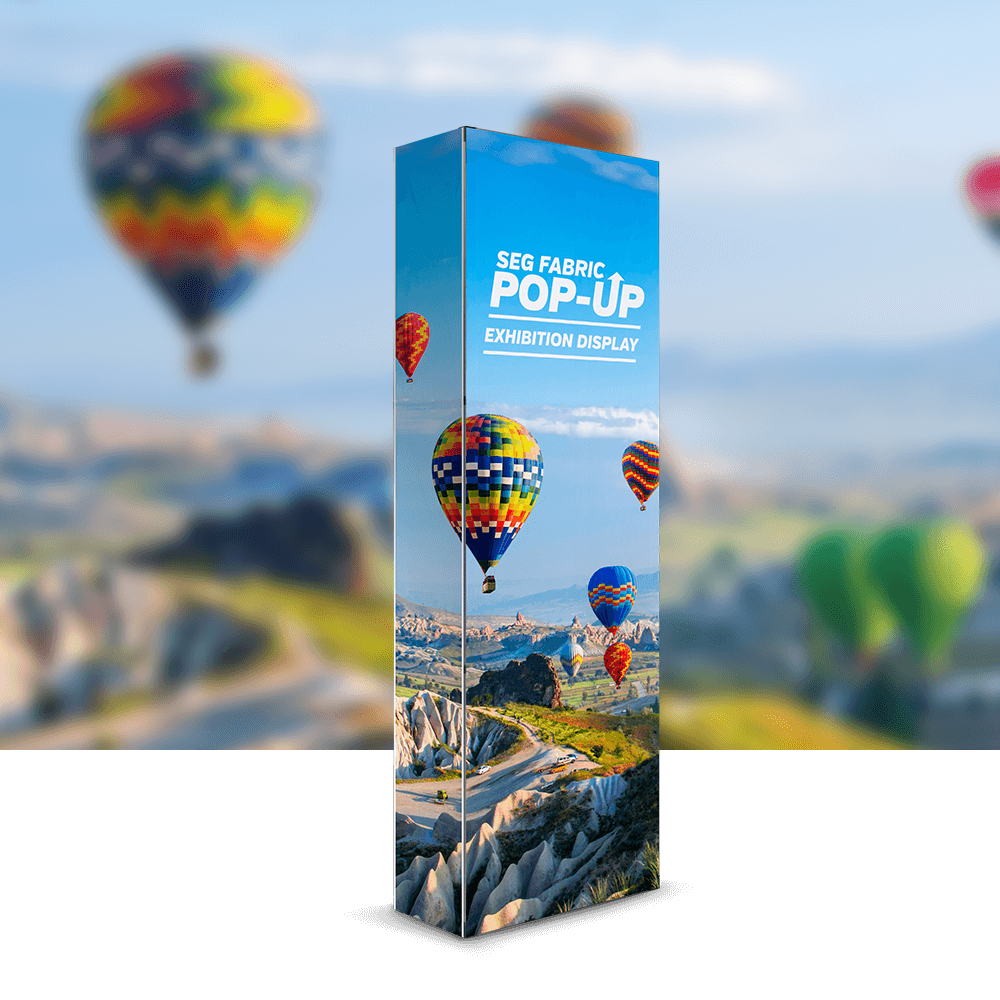 Downloads and Files
| File | Size | Download |
| --- | --- | --- |
| SEG Fabric Pop-Up 1X3 Single-Sided Template | 5.1mb | |
| SEG Fabric Pop-Up 1X3 Double-Sided Template | 5.1mb | |
| SEG Fabric Pop-Up 2X3 Single-Sided Template | 5.1mb | |
| SEG Fabric Pop-Up 2X3 Double-Sided Template | 5.1mb | |
| SEG Fabric Pop-Up 3X3 Single-Sided Template | 5.1mb | |
| SEG Fabric Pop-Up 3X3 Double-Sided Template | 5.1mb | |
| SEG Fabric Pop-Up 4X3 Single-Sided Template | 5.0mb | |
| SEG Fabric Pop-Up 4X3 Double-Sided Template | 5.0mb | |